ITACA
Ion-beam Techniques Applied to Cultural heritage and Advanced materials
Announcement
---
12-13/06/2023 - The Solid State Physics Group is organizing the "ITACA" NIS Colloquium ("Ion-beam Techniques Applied to Cultural heritage and Advanced materials), held at the Physics Department of the University of Torino. The workshop includes a broad spectrum of contributions on application of ion beams techniques from internationally recognized speakers.
-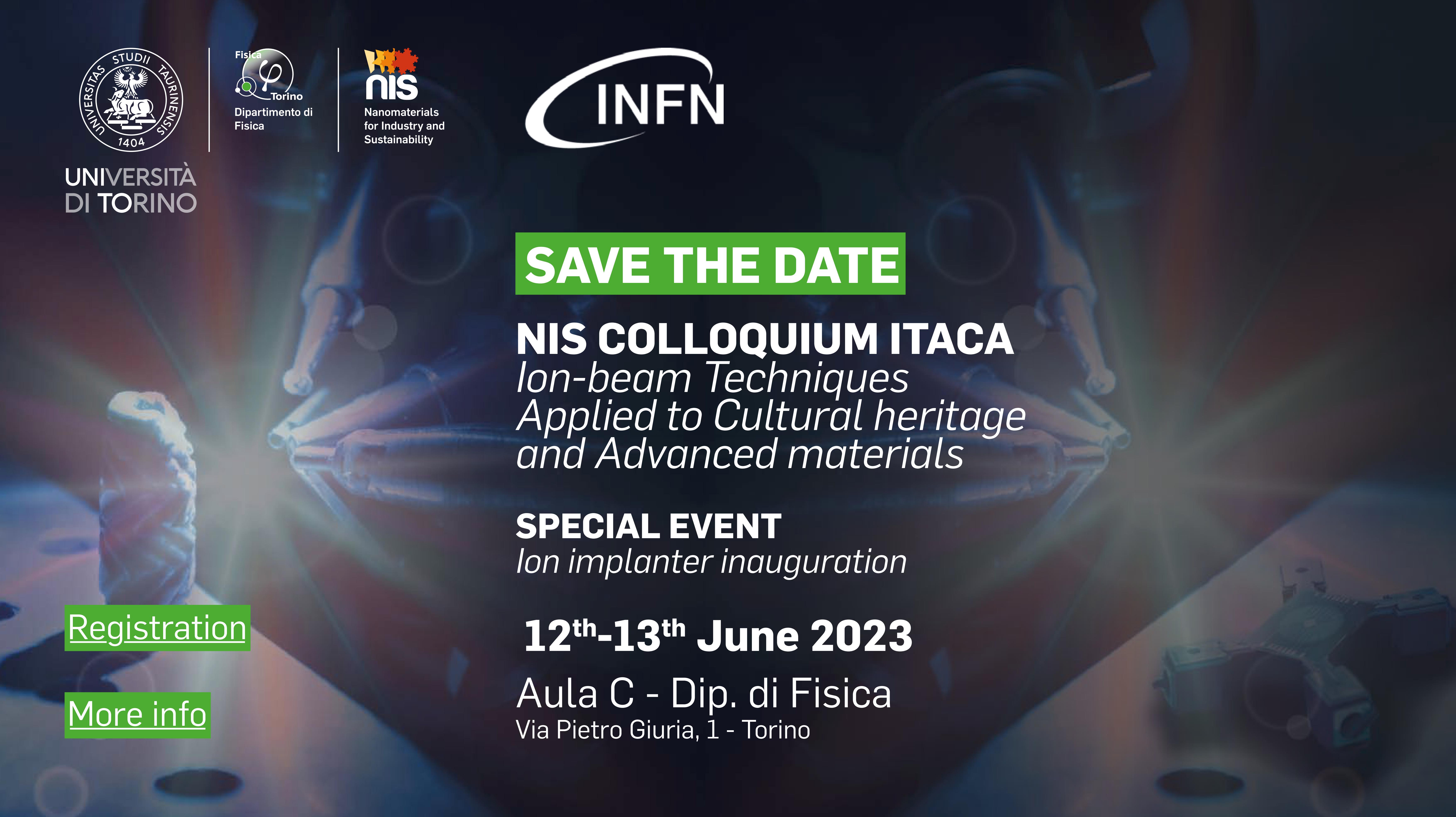 Streaming
---
Registration
---
Are you interested in attending this event? Please use the following link to register. Registration is FREE! FEW places are still available.
EXTENDED DEADLINE 9 JUNE 2023 .
- REGISTRATION -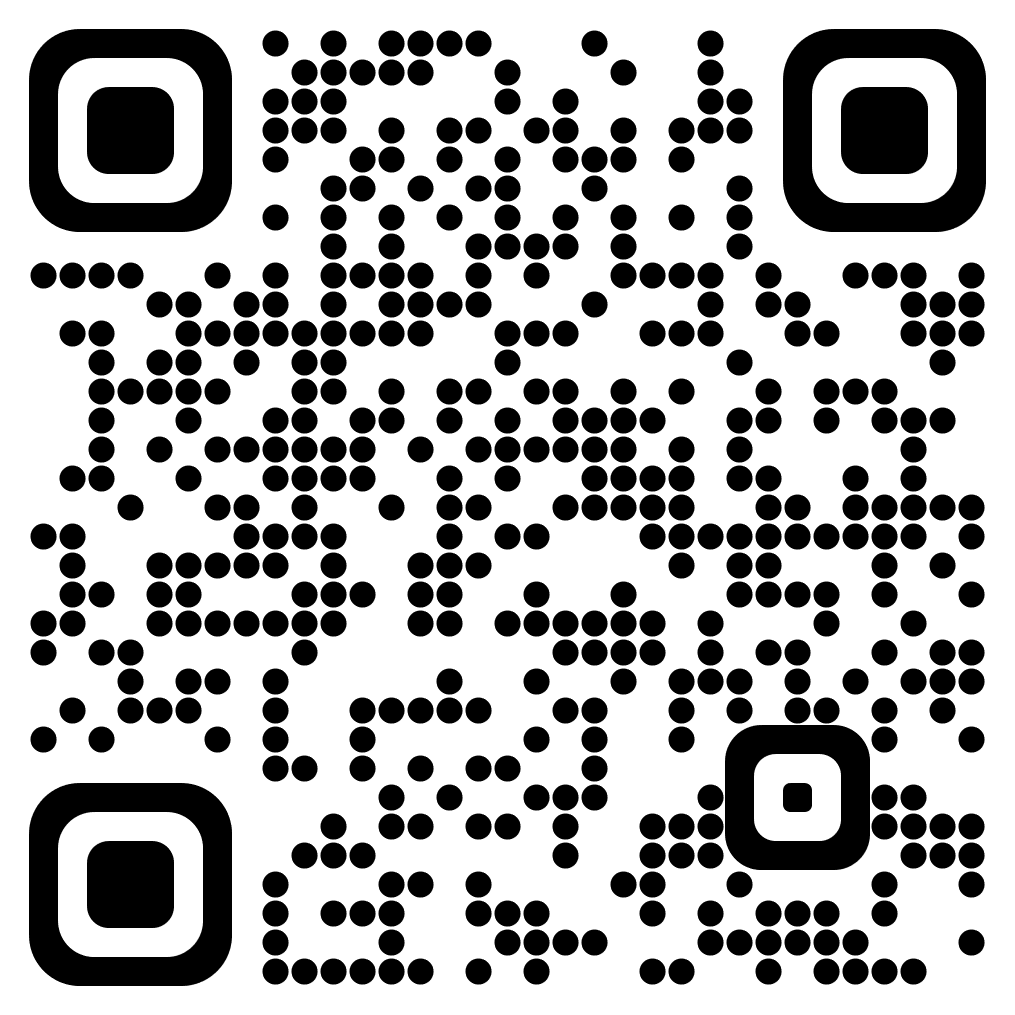 Program
---
The Book of Abstracts is out! Download it by clicking on the image below.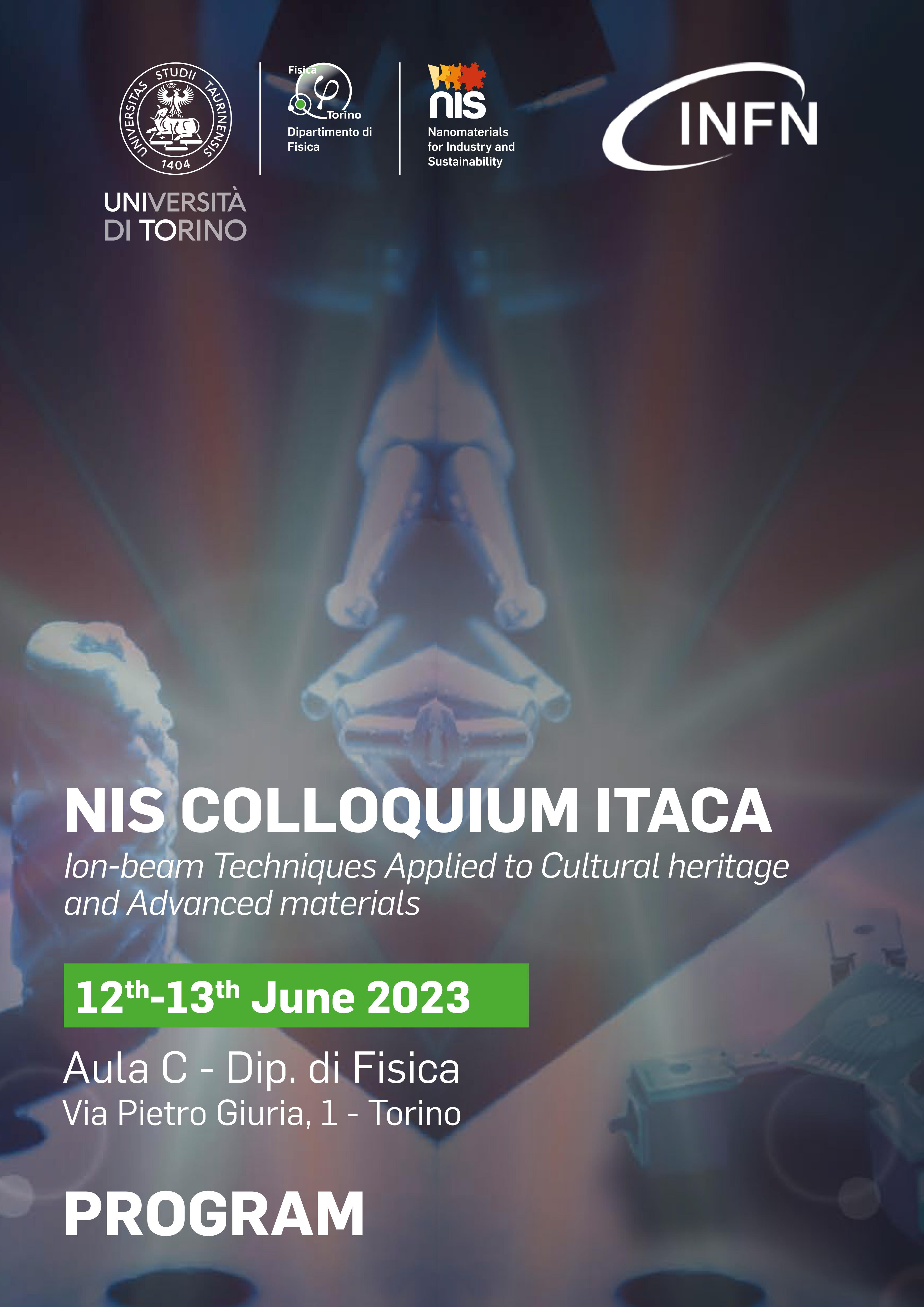 In the following the program of the confirmed talks:



12th June 2023


9:15 Opening
9:35 Paolo Olivero - Fabrication and optical functionalization of diamond with energetic ion beams
10:10 Natko Skukan - IAEA activities in support of utilization of electrostatic accelerators
10:45 Coffee break
11:15 Damiano Giubertoni - Nanometric modification of solids by multi-species ion column FIB
11:50 Jan Meijer - Mobile Quantum Computer
12:25 Lunch
14:00 Zdravko Siketić - Application of conventional and unique ion beam techniques at RBI for material characterisation and modification
14:35 Javier Garcia Lopez - Analysis of radiation detectors using MeV ion beams
15:10 Coffee break
15:40 Matteo Campostrini - LNL Van De Graaff accelerator facilities: IBA and applications
16:15 Aleksandr Ponomarev - Nuclear microprobe activities in Institute of Applied Physics of National Academy of Sciences of Ukraine
16:50 Ettore Vittone - Functional characterization and functionalization of materials by ion beams.
17:20 Ion Implanter inauguration



13th June 2023


9:15 Opening
9:35 Alessandro Lo Giudice - Ion beam analysis for archaeological materials: provenance study of lapis lazuli
10:10 Quentin Lemasson - IBA for Heritage Science at New AGLAE
10:45 Coffee break
11:15 Roger Webb - Multimodal Imaging for the Colocation of Organic Molecules and Metal Markers Using Spatially Resolved Mass Spectrometry with Elemental Mapping
11:50 Žiga Šmit - Archaeometric measurements at the Tandetron accelerator in Ljubljana
12:25 Lunch
14:00 Maria Dolores Ynsa - Suitability of Ion Beam Analysis (IBA) techniques for the characterization of archaeological metallic objects
14:35 Luís Alves - Old and new materials probed by ion beams
15:10 Closing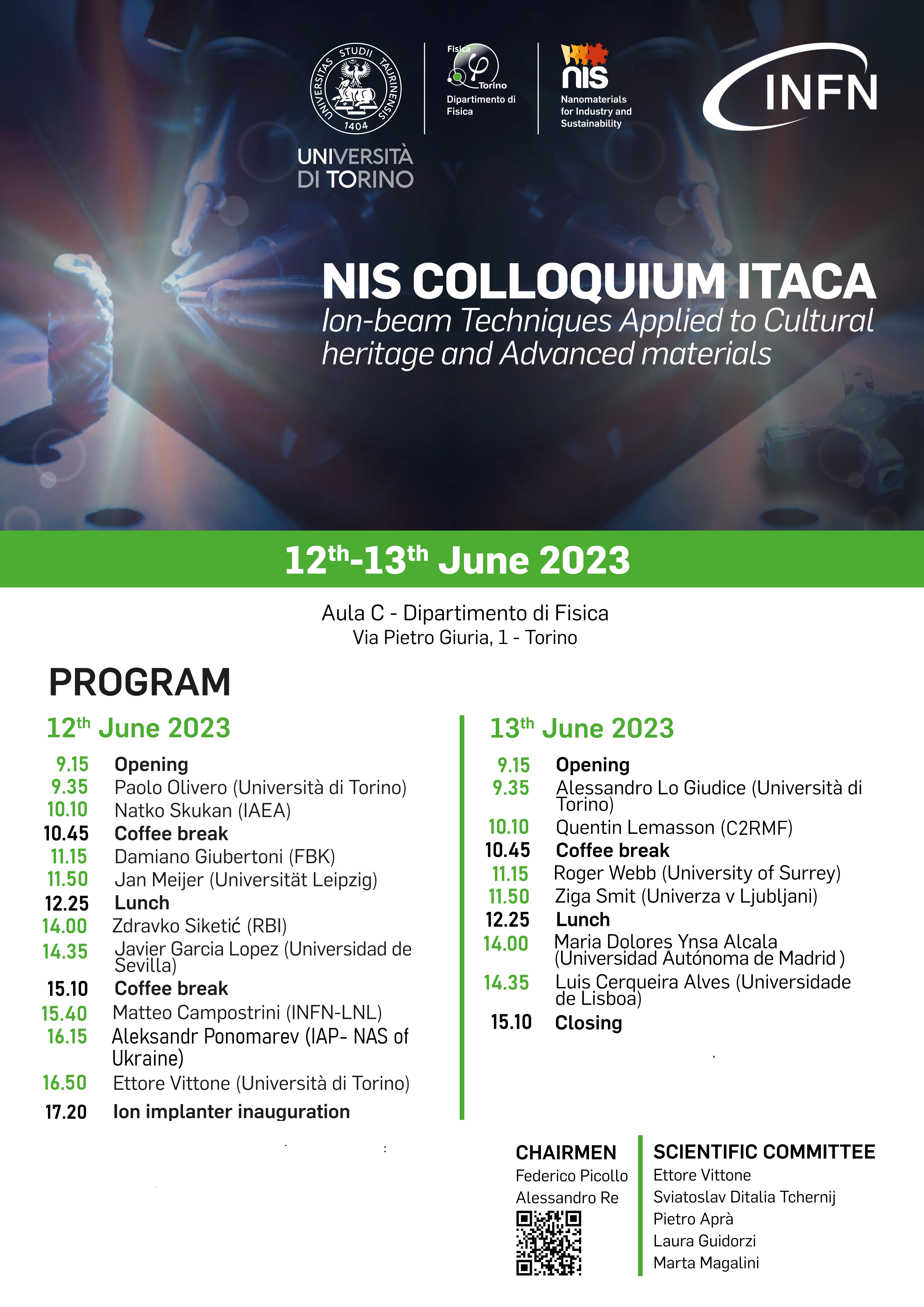 Pictures
---
Some pictures collected during the ITACA NIS Colloquium.
...

Location
---
ITACA NIS Colloquium will be held at Physics Department of University of Torino (Aula C):