Provenance Study of Lapis Lazuli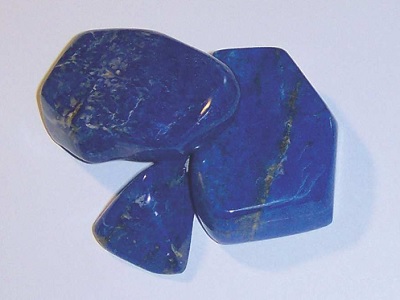 In 2008 started a provenance study of lapis lazuli, a blue semi-precious stone used for more than 7000 years for carving decorative objects and jewels. Ancient civilisations largely and continuously used this rock, although its rarity and the related difficulty to source it due to the existence of very few quarries in which it can be found. Despite the Afghan mines (Badakhshan) are nowadays widely considered the only quarry district exploited in ancient times, some archaeologists report that the exploitation of other quarries could have been equally well-founded. Nevertheless, an exhaustive provenance study to discriminate lapis lazuli rock coming from different quarry districts is still missing. This study, besides to increase the knowledge about this blue rock, could shed light on many unresolved questions, especially regarding the trade routes exploited in the ancient times.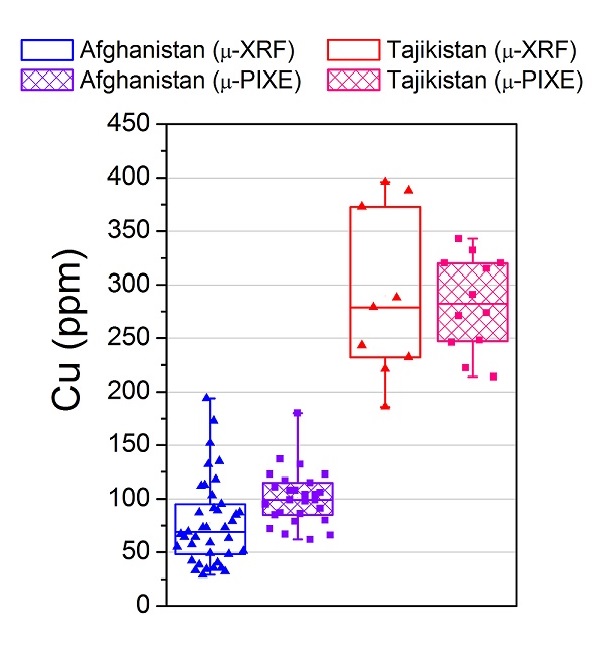 The entire research project is based on a multi-technique approach and consists in a preliminary characterisation of lapis lazuli rocks of known provenances, in order to identify the occurrence of markers discriminating different quarry districts. This characterisation is carried out with both invasive and non-invasive techniques (optical microscopy, cathodoluminescence, Scanning Electron Microscopy, Ion Beam Analysis and X Ray Fluorescence), while the use of only non-invasive techniques is necessary to apply the protocol to the study of archaeological findings and artworks made in lapis lazuli. The most important results were obtained by means of µ-PIXE and µ-XRF analysis. These two techniques are able to obtain information on mineralogical phases in lapis lazuli, they carried out comparable results about the quantification of major and trace elements and they are non-invasive techniques usable also on artworks.
This study is a collaborations among different research institutions: University of Torino, University of Firenze, University of Padova and the Italian National Institute of Nuclear Physics (INFN) of Torino and Firenze (LABEC laboratory). Other than at INFN-LABEC laborarory, ion beam analysis were performed at AGLAE laboratory (CNRS-C2RMF, Paris) in the framework of European CHARISMA and IPERION_CH project. Moreover, we obtained the support and the interest of different museums and institutions in studying their collections: the Museum of Natural History, University of Firenze, the Regional Museum of Natural Sciences of Torino, and the two most important Egyptian museums in Italy, the Archaeological Museum of Firenze and the Egyptian Museum of Torino. In the figures are shown respectively: lapis lazuli from Afghanistan, the Cu contents in pyrite of Afghanistan and Tajikistan lapis lazuli as obtained by means of µ-PIXE and µ-XRF analysis, an Ancient Egypt lapis lazuli scarab from the Archaeological Museum of Firenze during µ-PIXE measurements at AGLAE (Louvre, Paris) .

References Interview to Alessandro Re for a TV report ("Art Detectives team up") by Euronews, FUTURIS section (latest news about the leading scientific & technological research projects in Europe, Unlocking the secrets of research, science & technology) G. Vaggelli, et al., "Improvements to the analytical protocol of lapis lazuli provenance: first study on Myanmar rock samples", European Physical Journal Plus (2019) 134:104 A. Lo Giudice, et al., "Protocol for lapis lazuli provenance determination: evidence for an Afghan origin of the stones used for ancient carved artefacts kept at the Egyptian Museum of Florence (Italy)", Archaeological and Anthropological Sciences (2017) 9: 637-651 C. Czelusniak, et al., "Preliminary results on time-resolved ion beam induced luminescence applied to the provenance study of lapis lazuli", Nuclear Instruments and Methods in Physics Research B 371 (2016) 336-339 D. Angelici, et al., "µ-XRF analysis of trace elements in lapis lazuli-forming minerals for a provenance study", Microscopy and Microanalysis, 21, (2015) 526-533 A. Re, et al., "Ion Beam Analysis for the provenance attribution of lapis lazuli used in glyptic art: the case of the "Collezione Medicea"", Nuclear Instruments and Methods in Physics Research B 348 (2015) 278-284 T. Calligaro, et al., "Characterization of the lapis lazuli from the Egyptian treasure of Tôd and its alteration using external µ-PIXE and µ-IBIL", Nuclear Instruments and Methods in Physics Research B 318(A): 139-144 (2014) A. Re, et al., "New markers to identify the provenance of lapis lazuli: trace elements in pyrite by means of micro-PIXE", Applied Physics A 111(1): 69-74 (2013) A. Re, et al., "Lapis lazuli provenance study by means of micro-PIXE", Nuclear Instruments and Methods in Physics Research B, 269(20): 2373-2377 (2011) A. Lo Giudice, et al., "Multitechnique characterization of lapis lazuli for provenance study", Analytical and Bioanalytical Chemistry 395(7): 2211-2217 (2009)